ARD is the abbreviation of elevator power automatic rescue device. It's working principle is to be in the operation of the elevator suddenly meet power system fault (power, phase, lack fire). Cause of elevator control system can not run normally, thus when passengers are trapped. This device will automatically work. In a certain time to provide the required power, and will lift operation flat position, open the car door for passenger safety walked out of the elevator.
ARD is easy to install, convenient debug, high cost performance, safety and general
is well praised by the users from all walks of life. At present, ARD is applied to the elevator
in domestic and international famous brands. As an important part of the elevator
configuration.
Technical Data:
1.
Grid power input voltage R,S,T: three-phase 380V/400V
±
10%, the frequency is
50Hz/60Hz.
2. The rated voltage of three-phase inverter output is AC380V
±
10%, sine wave;
Rated output current is 5.5 A, output frequency is 50Hz.
3. The rated input voltage for Charging is AC220V
±
10%, rated frequency is 50Hz /
60Hz; Charging voltage output for DC55V
±
2%, rated charging current is 1.4 A.
4. Storage battery group using four batteries in series, model see ARD selection
specification table.
5. Environment temperature: 0
℃
~45
℃
; Humidity: 30%~90%(no condensation ).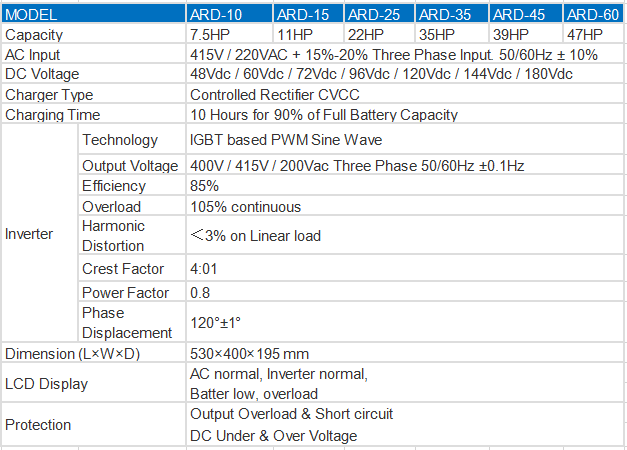 *Specifications are subject to change without prior notice due to constant improvement in design & technology.